about - College of Applied Medical Sciences
College of Applied Medical Sciences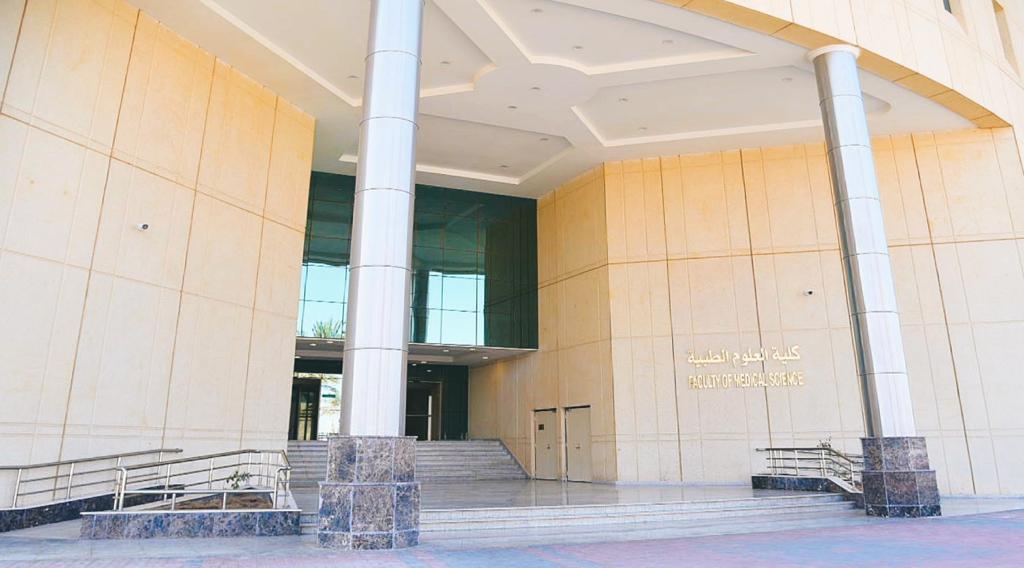 The College of Applied Medical Sciences at Najran University established by the Royal Decree of the Custodian of the Two Holy Mosques by Resolution No. 5/40/1426 to be one of the university's health colleges.
With the aim of fulfilling the community's need for qualified health personnel in various therapeutic, preventive and rehabilitative fields: to keep pace with the level of health service developed in its outputs, and to rise to a distinguished level of scientific and technical progress in the medical fields in general.
The college also aims to provide distinguished academic programs in accordance with international quality and academic accreditation standards, and a distinguished administrative structure and academic staff serve these goals from various scientific schools, in addition to committees, and various units to serve the student and society.
The College of Applied Medical Sciences is made of three specialized educational programs:
Department of Medical Laboratory Sciences (Male)
The Department of Clinical Laboratory Sciences is one of the basic departments for health care service and scientific research in various medical fields.
Graduates of clinical laboratories are qualified to apply clinical tests that provide physicians with information to help them diagnose many diseases.
The Clinical Laboratory Sciences major characterized by providing graduates with various career opportunities in the fields of health, education, management, and research centers.
Department of Radiological Sciences (Male/ Female):
It is a branch of medical sciences that is concerned with the use of X-rays, gamma rays, ultrasound vibrations and magnetic resonance in the diagnosis and treatment of diseases.
The Radiological Sciences Program aims to prepare students with general scientific foundations, educational background and skills necessary to practice successfully in the field of radiation science technology and train them in diagnostic radiography, nuclear medicine, ultrasound, magnetic resonance, computed tomography and radiation therapy. The program prepares graduates to work as specialists in the field of radiological sciences for diagnostic technology and radiation therapy in radiology and medical imaging departments in hospitals.
Department of Medical Rehabilitation (Male/ Female):
The Department of Medical Rehabilitation Sciences at the College of Applied Medical Sciences at Najran University includes four rehabilitation programs:
Physiotherapy Program.

Occupational Therapy Program (under development).

Respiratory Therapy Program (under development).

Speech and Hearing Ills Program (under development).
About Physiotherapy
Physiotherapy is one of the most important modern medical sciences and has an effective role in the treatment of many diseases in various medical specialties, as it based on well-studied scientific foundations and widespread clinical application. The physiotherapist is able to provide his services to various segments of society. Physiotherapy subdivided into multiple branches; Physiotherapists are qualified to deal with various conditions such as neuromuscular disorders, disorders of the skeletal system and cardiopulmonary system, and his services include care for children with special needs, geriatrics, internal medicine and burns, and post-operative rehabilitation.
Study system:
The College of Applied Medical Science adopts the semester system in the study, where each semester represents a level for the student. At the first year (Preparatory Year), the admitted students of this college study a common syllabus with the admitted students in the other colleges of health such as college of dentistry, college of medicine, college of Nursing and college of pharmacy.
There is no doubt that the nature of the study in these programs necessitates the existence of a good infrastructure that provides all the requirements for the graduation of the student prepared to meet the need in the labor market and in hospitals and other health sectors, so the support was to provide an appropriate scientific and practical environment, by providing many laboratories and equipping them with modern medical devices, classrooms with appropriate spaces, and treatment and diagnostic units.
The college grants its students a bachelor degree after spending four academic years and internship and after passing exams successfully.
Careers for which graduates of the programs are prepared:
Medical Laboratory Specialist

Diagnostic Radiologist / Specialist.

Physiotherapist.
In order to work in various fields such as: hospitals, dispensaries and governmental, military and private health centers.